[one_half]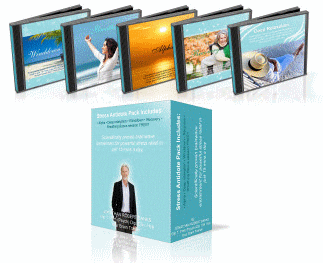 Buy the Stress Antidote Pack
(CD version) $119.80

Buy the Stress Antidote Pack
(MP3 version) $59.80

[/one_half]
[one_half_last]
The Stress Antidote pack is designed to cover every aspect of de-stressing your brain, nervous system and body. The titles are selected to work synergistically to make de-stressing as efficient and powerful as possible. The titles have also been selected so there are different ways to achieve reducing stress that different people may find works better for them.
There is an instruction document which guides you through a program with suggestions of which tracks to start with to begin the process of calming and energising plus switching on your natural stress antidote system in your body.
Then it adds in the other tracks for specific effects to help with:
Letting go and relaxing
Deep restful sleep
Reducing tension, fatigue, brain fog, anxiety, anger
Recovery from fatigue and the days stress
You will find that your energy picks up your concentration improves and your mind sharpens.
If you follow my instructions I guarantee you will begin to feel so much better. Just stick with it and remember this is your time to recover….you deserve it and need it.[/one_half_last]