Read the following testimonials and optimum peak performance results from a mix of executives and elite sports people who used Neurotech Coaching's optimum peak performance training to enhance their mental capabilities.
Graphs are based on the Profile of Mood States (POMS) , a standardised psychological test used with a group of four senior managers at Australian National.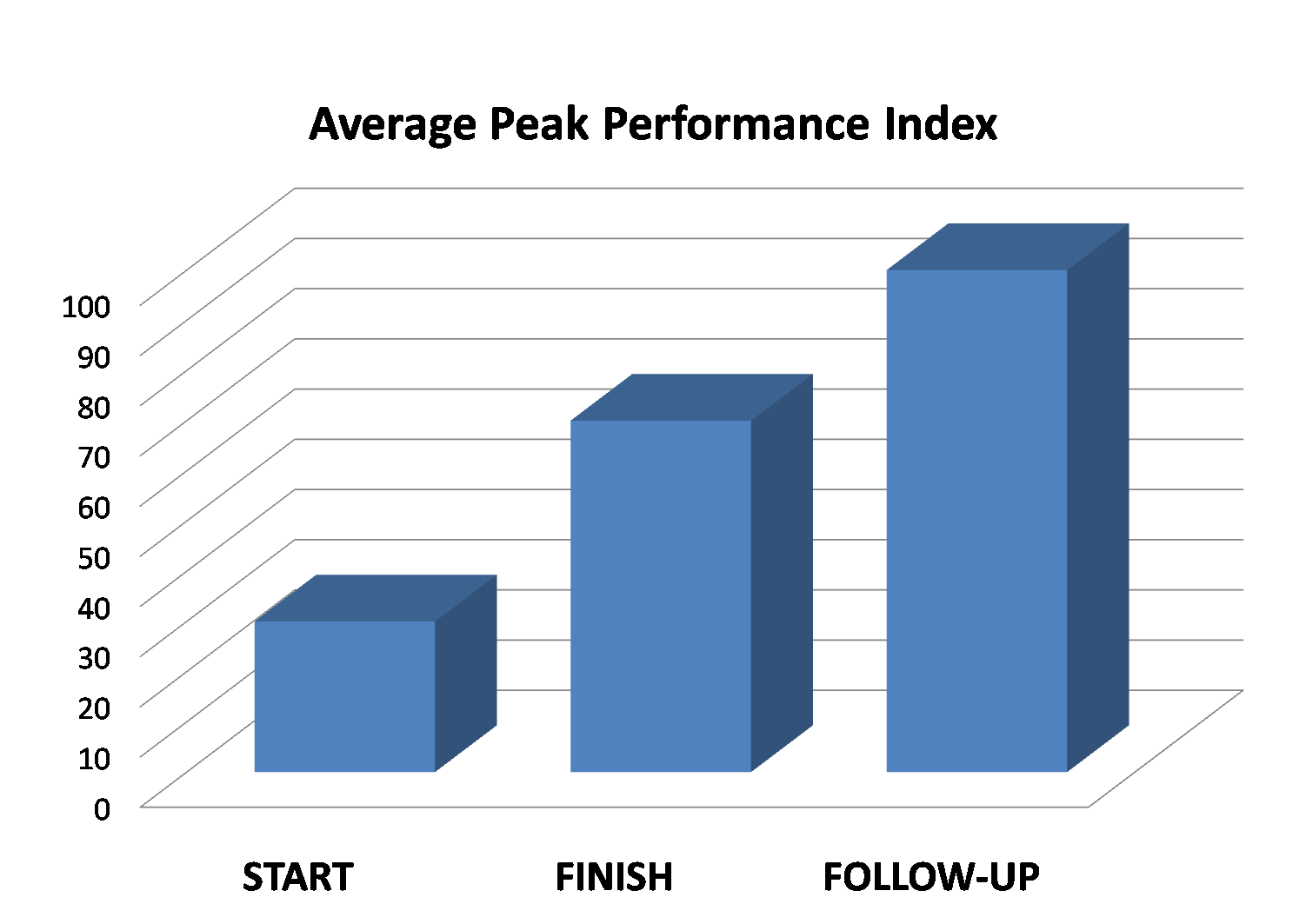 ---
Optimum Peak Performance for Executives Testimonials
"I was very skeptical about the process but after a few sessions I saw a marked, positive change in myself at work and at home.
"I now believe it to be immensely beneficial for managers. I am able to think and monitor myself more clearly and to make better decisions faster even when under pressure.
"I feel very productive, have lots of stamina, my thinking is very clear on a micro and strategic level. I am able to switch on, off and be detached more easily. I believe this is a skill that you don't forget."
Angelo Demertzis
Manager
Marion Council
"I can now shift mental gears and move easily from a 'pumped up' state to a more relaxed 'idling' state, still maintaining a crisp sharp focus and productivity, and not use more energy than is necessary.
"I feel I am making decisions quicker, without any loss of quality. Generally this training has sharpened my natural abilities."
Brian Carr
CEO
City of Tea Tree Gully
"The training has been very helpful for my productivity, it tunes me in and clears my head. I have become more relaxed and feel at ease within myself.
"I feel more energised and calm, things that normally annoy me don't any more. Have become more creative and feel comfortable and confident working with this. I have the subtle feeling of being a different person, far more patient and balanced.
"I can easily clear my mind when I have to. I can handle conflicts with others better, I am able to remain cool and calm. This training is the epitome of managing change."
Chris Hall
Former Senior Manager
Australian National
"Since doing the training I feel more calm and things don't upset me. I feel more emotionally stable, clear, optimistic and I can handle pressure better.
"My perceptions have sharpened and I can absorb more information. My memory and thinking are better. It has been excellent operating at a new higher level.
"On all fronts I am as good as I have been for a long time. I am experiencing being more proactive."
Des Leach
Training Consultant
Halifax Consulting
"Generally I feel as though I am on an even keel, I am more calm and relaxed, my stress levels are down, I don't get worried, I can focus and concentrate better and get the job done. I am very conscious of my state and can change it to produce better outcomes, ie, adjust it quickly to maximise performance.
"I am able to switch off and on and can be totally focussed on the task at hand, whether at work or playing with my children, this equals quality of my time. I am able to cope much better with crisis and feel in control, confident and good about myself.
"The training has definitely improved my overall productivity thus improved self and people management. When pressure builds up I am able to shift gear and take control so pressure doesn't get to me. My concentration and focus is much better.
"I am able to easily mentally rehearse situations that I have to deal with at work, eg, difficult meetings, this helps me to prepare better and improve outcomes."
Ray Smith
Manager
Australian National
"Since doing the Neuro training I no longer need medication for sleep, I can enjoy a drink without over doing it, my eating habits have improved and I quit smoking.
"I have created closer relationships with my wife and my children. I feel happy, healthy, confident and in control. The training empowered me to create my vision."
David Green
National Sales and Marketing Manager
AP Printing Group
"After experiencing burn out I am now strongly committed to looking after myself. I have developed an ability to do mental 'push ups.'
"Generally I feel more energetic, calm, focussed, confident and optimistic. I am enjoying my work and life much more."
Peter Christianson
Regional Manager
Woolworths – Adelaide
Professor John Gruzelier, Head of the Cognitive Neuroscience and Behaviour Laboratory at Imperial College London states that neurofeedback; "Can positively influence the cognitive performance of healthy individuals."
Financial Times
2003
Professor Frank Duffy from Harvard Medical School has stated in regards to neurofeedback: "If any medication had demonstrated such a wide spectrum of efficacy it would be universally accepted and widely used."
Clinical Electroencephalography
2000
Email or phone us to discuss how you can begin with this powerful home/office based training for yourself or your management/sales team.
Within Australia 02-42836344
Outside Australia 61-2-42836344
---
Optimum Peak Performance for Athletes Testimonials
The basis of achieving optimum peak performance is highly effective recovery. High achievers who work very hard need to recover hard.
Without serious recovery, sustained peak performance is impossible and over time, as residue stress/fatigue build, performance decreases creating more stress … thus a vicious cycle.
Tim McLaren – UTS and Olympic rowing coach re Men's coxless four: "There was a general stability in mood and consistency in their behaviour and attitude and they were more productive in training.
"Also it was useful for recovery, they felt more energised and alert after using it and felt they were coping better. They were more consistently able to be in a better state of readiness before an event." – They won a bronze medal at the Sydney Olympics.
Jan Sterling, Coach Adelaide Quit Lightning Womens Basketball:"Jonathan has made a big difference for some of my players working with him on an individual basis, for one girl who was on the verge of being dropped from the team it saved her career as she went on to play for Australia ."
Carla Gilbert – Triathlon champion: "I was feeling very tired by the end of the week. The Brain Trainer enabled me to recover more effectively reducing fatigue so I felt switched on and motivated.
"This made me more confident to continue competing for another few years against the younger girls." – Carla went on that season to regain her Australian title.
Jo Hill Adelaide Quit Lightning and Australian Opals Basketball:"These sessions are more beneficial than anything I have done before. I am more relaxed, clear headed, refreshed and confident than ever before.
"I have gained emotional control and maturity, I am more able to keep composed and maintain focus under pressure." – Jo went on to play for Australia.
Pat O Keith – Coach Women's Olympic Canoers: "the girls love the Brain Trainer, they look forward to sessions after training for recovery!"
Email or phone us to discuss how you can begin with this powerful home/office based training for yourself or your management/sales team.
Within Australia 02-42836344
Outside Australia 61-2-42836344