[one_half]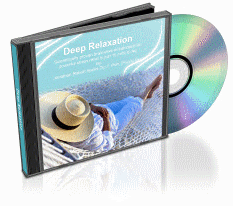 Buy the Deep Relaxation CD $29.95

Buy the Deep Relaxation MP3 $14.95

[/one_half]
[one_half_last]
Deep relaxation will leave you feeling relaxed, confident and switched on. It is an easy and powerful way to learn deep relaxation.
A relaxation session consists of a Alpha track and music and uses the most powerful:
relaxation techniques

meditation techniques

guided relaxation

progressive muscle relaxation

relaxation exercises

evocative alpha relaxation music
To quickly lead you to the most calming states of deep relaxation and is perfect for:
learning how to relax

relaxation therapy

relaxation meditation

sleep

stress management

stress relief

anxiety relief
2 x 15 minute sessions
This is ideal training for beginners and teaches the 5 to 0 count towards total relaxation. With regular use it can be extremely helpful when implemented in situations where calmness is needed.
It has 2 tracks. Track 1 is for use during the day and Track 2 is for night time in bed before you go to sleep.[/one_half_last]