The effects of meditation are wide ranging, especially if you practice meditation on a regular basis. It will bring many positive consequences and experiences into your life.
It will change how you think about and see your life, and flowing from that; it will change how you react to the challenges of day to day living.
Meditation benefits
---
You can benefit from meditation on basically every level of your being, but let's look at the physical, mental (emotional) and spiritual benefits and effects of meditation:
Physical benefits:
Decrease heart, breath and metabolic rates
Lowers blood pressure, sugar levels, cholesterol levels and the rate you age
Increases circulation, immunity, endocrine functioning
Reduces muscles tension, increases exercise tolerance
Helps with pain management and recovery after illness
Brings relief for PMS symptoms
Reduces headaches and migraines
Improves brain functioning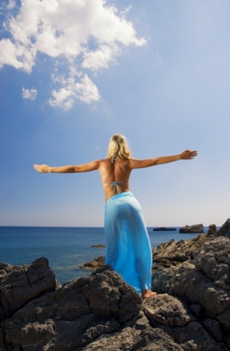 Emotional benefits:
Reduces anxiety, phobias, fear and uncertainty
Emotions feel more stable and anchored
Improves focus, concentration levels, learning and productivity
Increases will power and self discipline
Changes and improves coping skills
Improves interpersonal interactions and relationships
Brings a sense of happiness, rejuvenation and vitality
Builds emotional maturity
Spiritual benefits:
Self-actualisation
Increases self acceptance, self love and insight into the self
Brings harmony between spirit, mind and body
Greater sense of "one-ness"
Increase wisdom, compassion and the capacity for forgiveness.
---
Meditation Quick Links:



---
What others said about the positive effects of meditation after trying our meditation Mp3's and CD's:
I have been using the Pain Management and the Deep Relaxation CDs produced by Jonathan Banks for a number of years now.I find they are an excellent adjunct to the counseling and hypnotherapy that I use with private clients, many of whom have work related injuries and are in chronic pain or are suffering stress and anxiety.
I have made my own CDs interpreting the past to give to clients, however now use these in preference as I find the sound in the background of the CD to be extremely powerful in inducing relaxation.
Feedback from my clients indicates that once they have developed a routine of listening to the pain management and healing CDs, they can actually have a period where they do not experience any pain.
As well, those with extreme anxiety or high levels of stress report that the calming effect from listening to the Deep Relaxation CD is of great benefit to them.
Furthermore both groups generally advises that the CDs help them with sleep at night. I would highly recommend these CDs as a useful and powerful tool for assisting individuals to calm themselves, learn to relax and manage pain.
Jackie Dakin – Psychologist
This is the best brainwave entrainment I have ever heard. It's excellent and much better than the renowned Holosync CDs. I have used the Alpha CD with my clients and they love it.
Steve Lewis – Life Coach
I have used the Alpha CD quite a bit and find it such a lovely calming, relaxing experience, it has become my friend. I have found the Pain Management CD to be nothing short of miraculous in relieving back pain.
Jenny Walsh – Teacher
I am using the Deep Relaxation CD before training and before sleep. Normally I go to bed at midnight because I'm afraid of thinking too much and not sleeping. The CD has enabled me to go to bed earlier and get off to sleep easily. I'm also using it before training, which was good as a quick rest and refresher, this relaxed me without being tired.
Marina Moffa – Dual Olympian
I've had a knee reconstruction and feeling a lot of pain, I've lost a lot of confidence, when I play.Since using the Pain Management CD the pain in my knee has gone and my confidence on the court has improved immensely.
When I use the CD I become completely relaxed and feel warmth in my knee. I wake up feeling positive and confident, ready to start the day. I feel better at night when using it before sleep.
Willie Simmons – Adelaide 36ers
The Deep Relaxation CD is awesome for sleep, I've never heard the end of the CD.I use the Rehearsal CD to do inner mental training, especially on goal shooting and the Recovery CD after training and competition.
Jaime McKinnon – AIS Scholarship holder and South Australia 21 and Under Netball
I thought maybe you would like some feedback.I am purchasing the Alpha CD as a replacement for a massage therapist/ friend of mine. She gave her copy to my nine year old daughter to try and I feel we have almost worn it out.
I admit I was skeptical. However the change in my daughter has been obvious. She is a high intensity, high energy, high need kid who was hard work. She seems to be a calmer, more balanced kid after only a month.
Hopefully this calmer more balanced kid feels more capable of facing life's challenges.
Thanks
Sarah
I use the Deep Relaxation CD before sleep and relax very quickly. Its a great way to go to sleep, I sleep very well and feel more alert in the morning.
Deb Copley – Captain North Adelaide District
I used The Recovery CD for recovery after a game, didn't feel as tense and uptight and was able to get off to sleep much easier.Mental preparation before the game with the Rehearsal CD created a good feeling, positive determined frame of mind.
Sleep has improved, going off quicker, don't wake up through the night, feeling more awake and refreshed in the morning and generally not as tired as usual.
Didn't use CD for several nights and noticed the difference, sleep was more restless tossing and turning.
Michelle Griffith – Sydney Flames and Bronze Medal Olympian
To help you get started or help improve your meditation if you are already practicing try my free 10-minute sample of Alpha meditation.
It will give you something to focus on inwardly. The special frequencies increase Alpha brainwaves and gets you into meditation easier.
Click here to get your FREE Mp3.